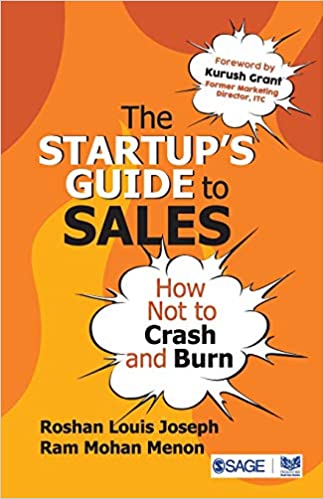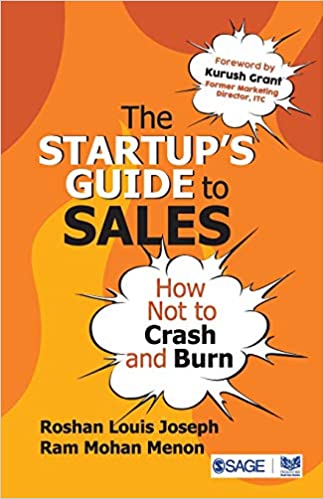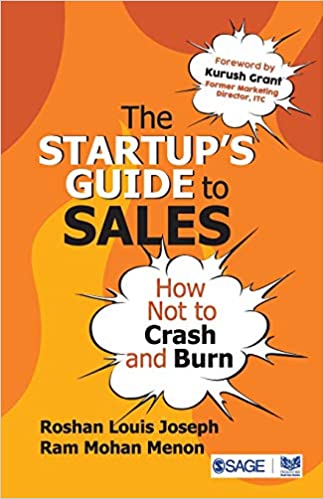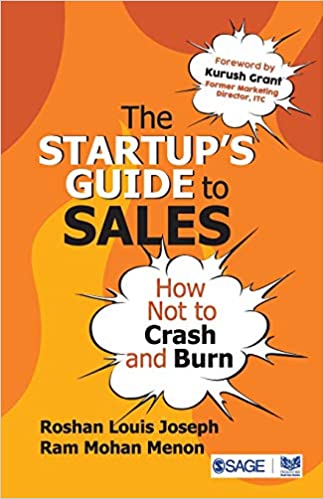 The Startup's Guide to Sales: How Not to Crash and Burn [Paperback] Joseph, Roshan Louis and Menon, Ram Mohan
Roshan L. Joseph is a professional in the sales and marketing field and a consultant of repute. He has been the Executive Director on the Board of Eveready Industries India Ltd with the accountability for marketing and sales. He has also been the Managing Director (MD) of Franke, a Swiss MNC in the kitchen solutions business. At Eveready, he was instrumental in bringing Eveready out of the cold with the pathbreaking advertising campaign 'Give Me Red'. This brought about the repositioning of Eveready as a brand that could connect with the youth. The campaign won 11 advertising and marketing awards and continues to date with the way Eveready advertises. Earlier on, his skills as a marketer were put to test in a challenge facing the flashlight business. This was the neglected business of the company. Today, with adept marketing moves, it is a very profitable division of the company.
In 2004, Roshan, as the MD of Franke, had the challenge of establishing the brand, though no. 1 worldwide, in the Indian kitchen scene. Today, Franke is well established as a premium brand of kitchen sinks. Here too, he established a unique positioning and improved distribution to develop the brand.
In 2007, he started a marketing and sales development company of his own in collaboration with Carew International of Cincinnati, USA. He has worked with diverse clients across the Middle East and India. Roshan has been a trainer as far back as he can remember. He has been the Course Director of the Calcutta Management Association for a record six years. He established the first Sales Training Department in the company. He was the Founder of the Eveready Academy of Sales Training (EAST) and was instrumental in the award-winning initiative Basic Training Program for training all employees of Union Carbide, over 6,000 of them.
Roshan is currently the Managing Partner of B-More Consulting (www.bmoreconsulting.net), where he promotes various international sales development initiatives.
Ram Mohan Menon (IIMA Class of '78) is a sales and marketing professional. A sales trainer of repute, he is also a management consultant. He has held various senior management positions at Eveready in the sales and marketing function. He retired from Eveready as the Executive Vice President.
His marketing experience covers a wide range of goods, including frozen marine products, batteries, flashlights and tea, both in domestic and international markets. He has played a major role in improving the efficiencies of the distribution system at Eveready. He spearheaded the establishment of a new brand of batteries for the export market which included various countries in Africa, Sri Lanka, Bangladesh and Nepal. This role saw him handling the challenges of sales and distribution in a global context.
As a consultant, he has been engaged in the assessment of the sales process and management system prevailing in client organizations and redesigning them for greater operational efficiency. These client organizations belonged to a wide range of industries such as footwear, pipe and fittings, chemical, electric two-wheeler industry and several others. As a trainer, he has conducted sales training programmes offered by Carew International, USA, for various organizations in India. He is also a visiting professor at a leading management college in Kolkata.
Description
Additional information
Brand
Reviews (0)
Description
From that gleam in your eye, to prototype, to production— you are all set to wow the world with your genius. You take the first step towards your goal and realize that between you and the consumer is a moat full of dragons, demons and turbulence that you must cross to make it to 'Start-up Paradise'. The Start-up's Guide to Sales is a practical book that helps you navigate the perils of wrong selling. This is not sales theory, but a 'tried-out' recipe book for success. Read on and sail the choppy waters with sales savvy! Roshan L Joseph and Ram Mohan Menon, mavens of sales, distribution and marketing, have trudged through global markets to find what works and what must be avoided. The language is distilled and easy, and their advice is clear and unambiguous for they have been there and done that. Excerpt: As much as you want to believe that your new product is the best thing that has happened to mankind since potato chips, the market may never see your product at all, unless you get the selling factor in place. It gets even worse when there is no product in the market that is even close to yours. If your product is a Fast-Moving Consumer Goods (FMCG), it is easy to get people who will be able to move your invention to the final consumer. If it is unique, it gets harder to find a selling solution.
Additional information
| | |
| --- | --- |
| Weight | 310 kg |
| Dimensions | 5 × 5 × 5 cm |
Related Products