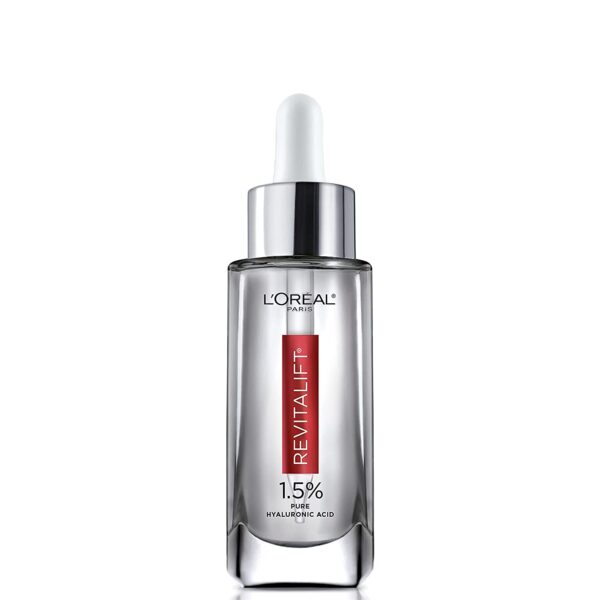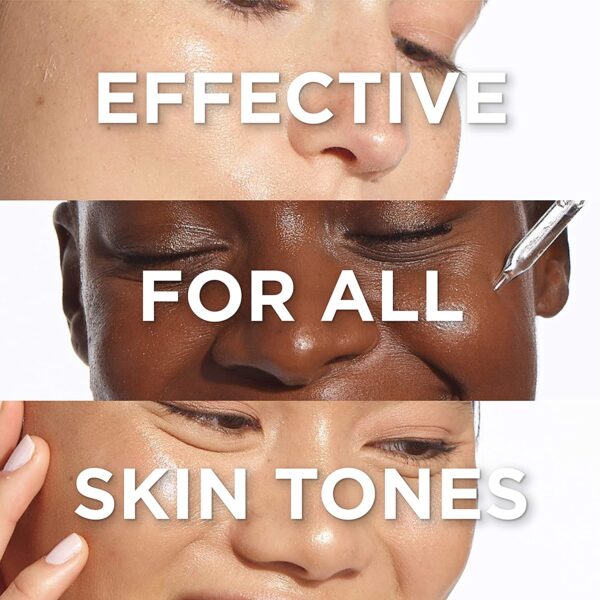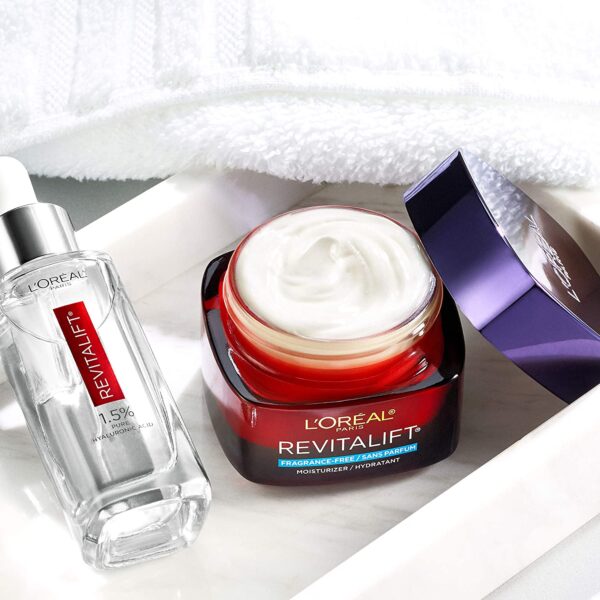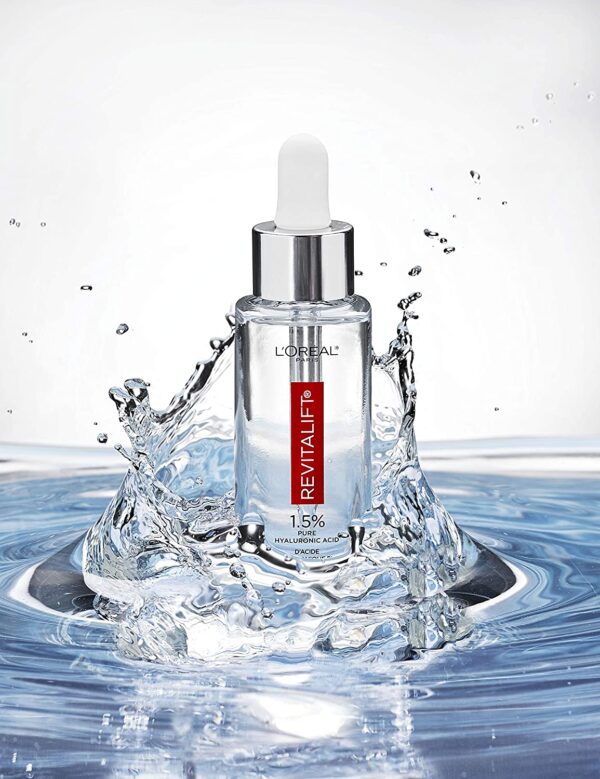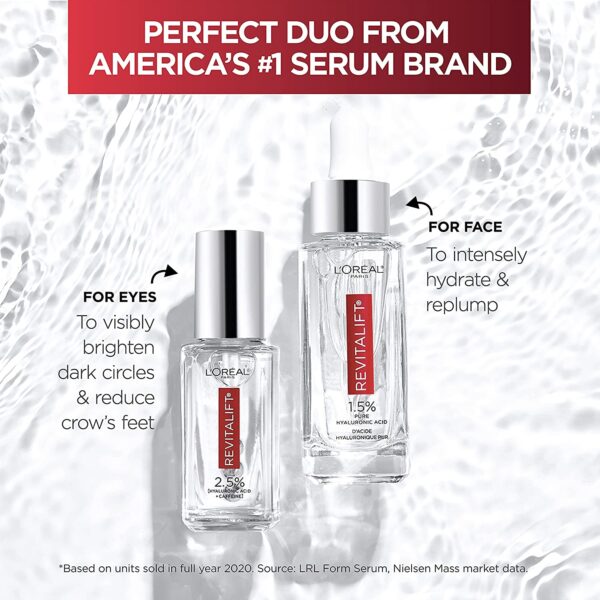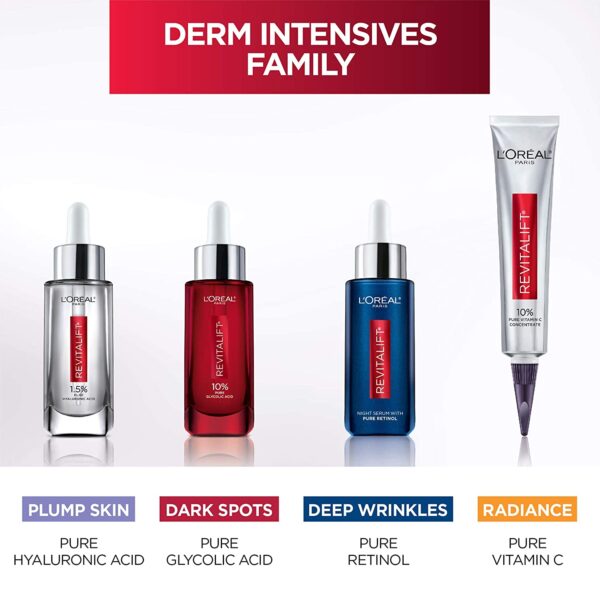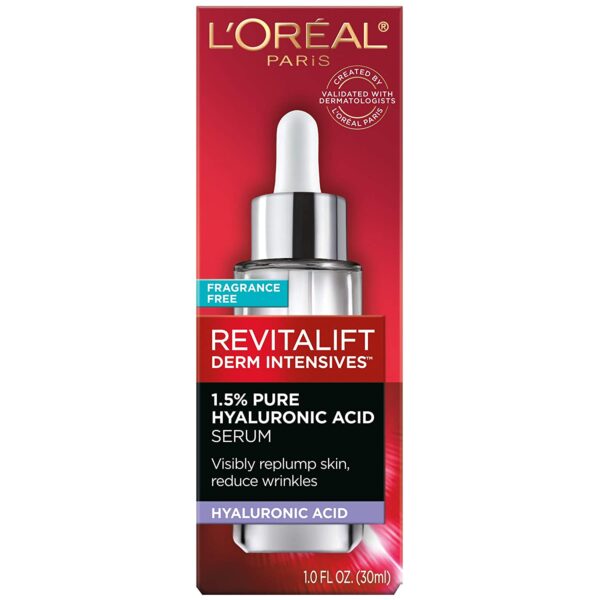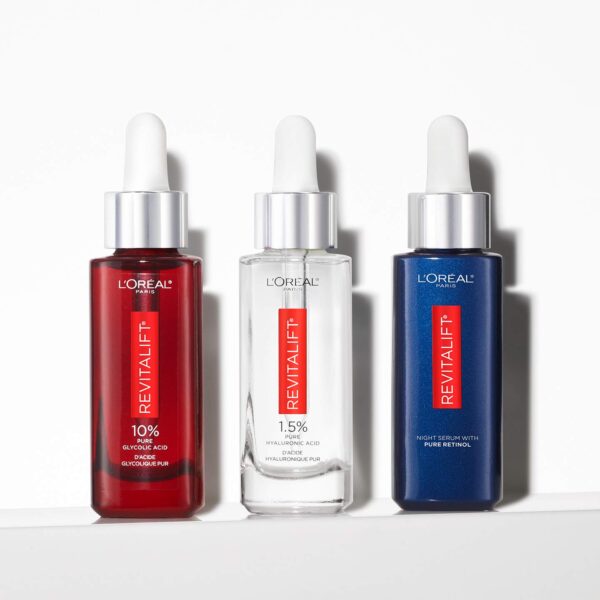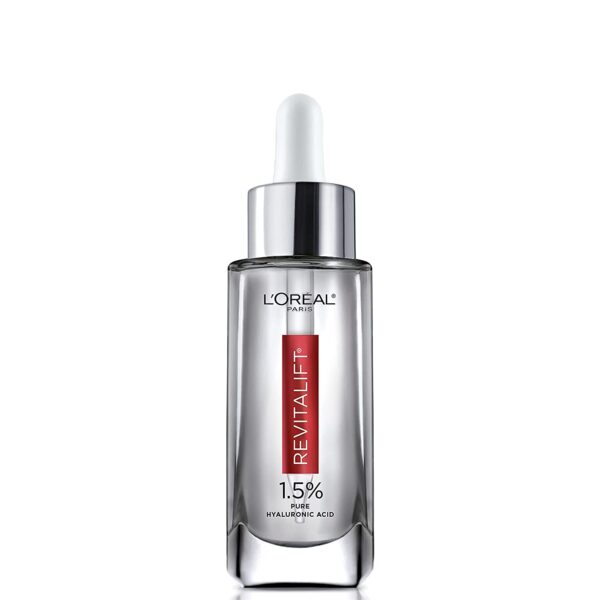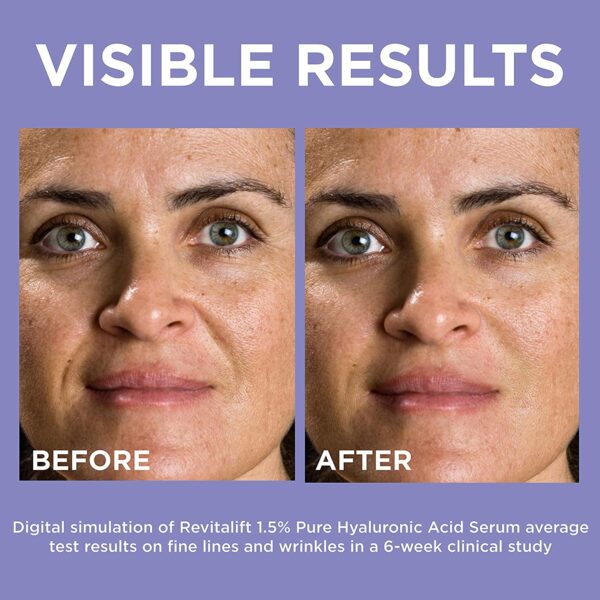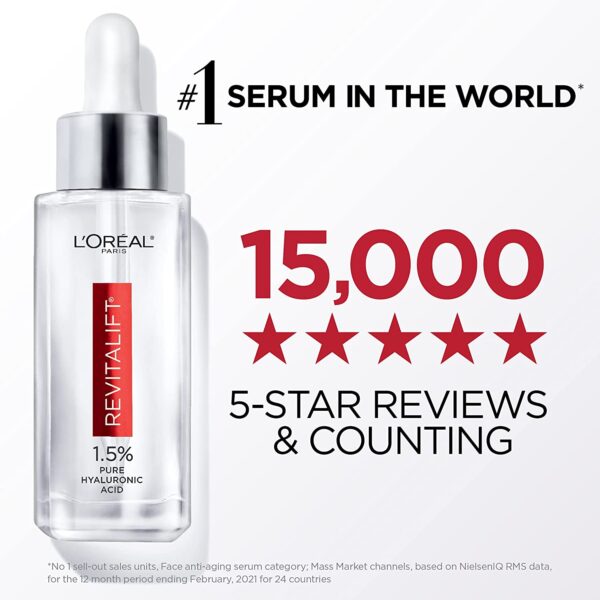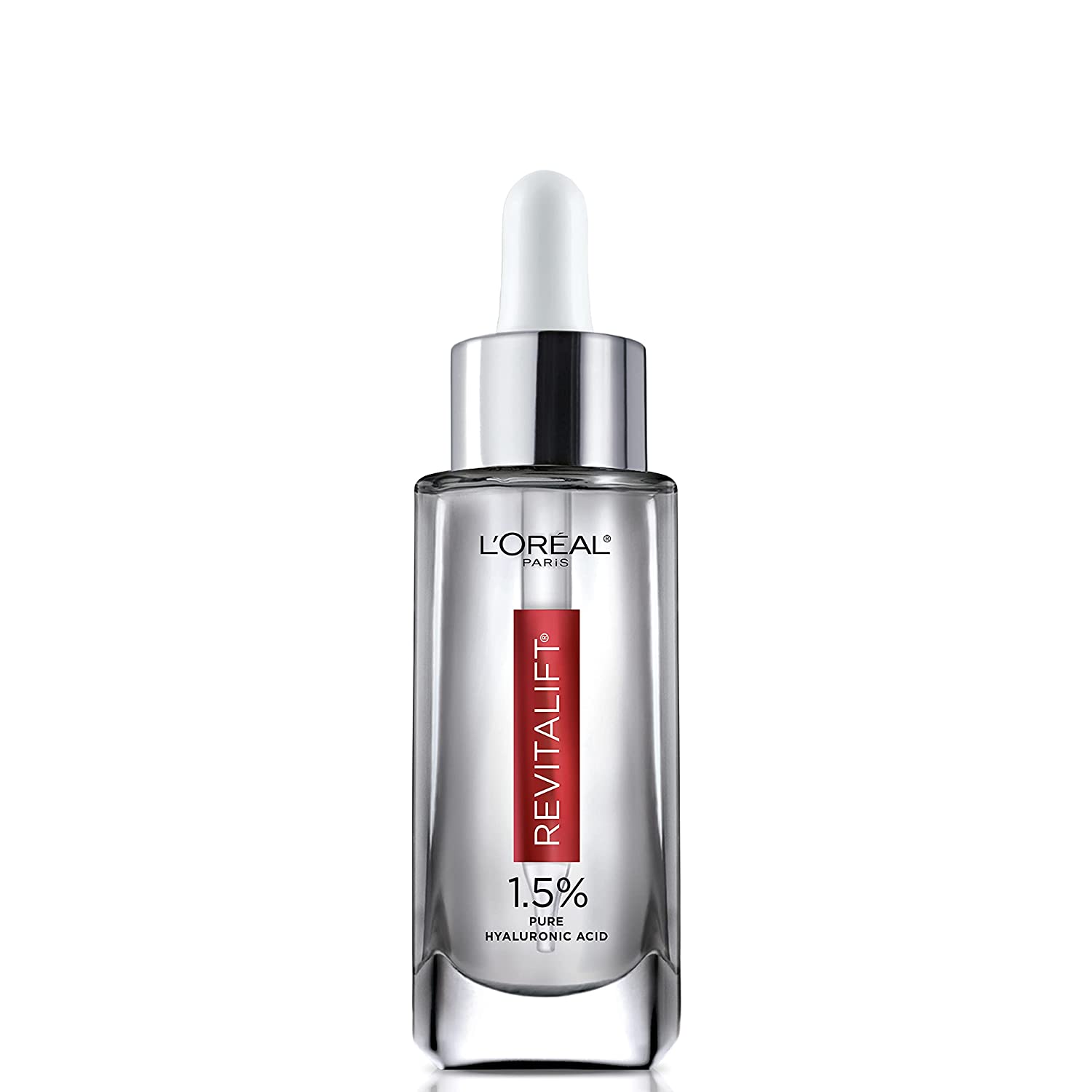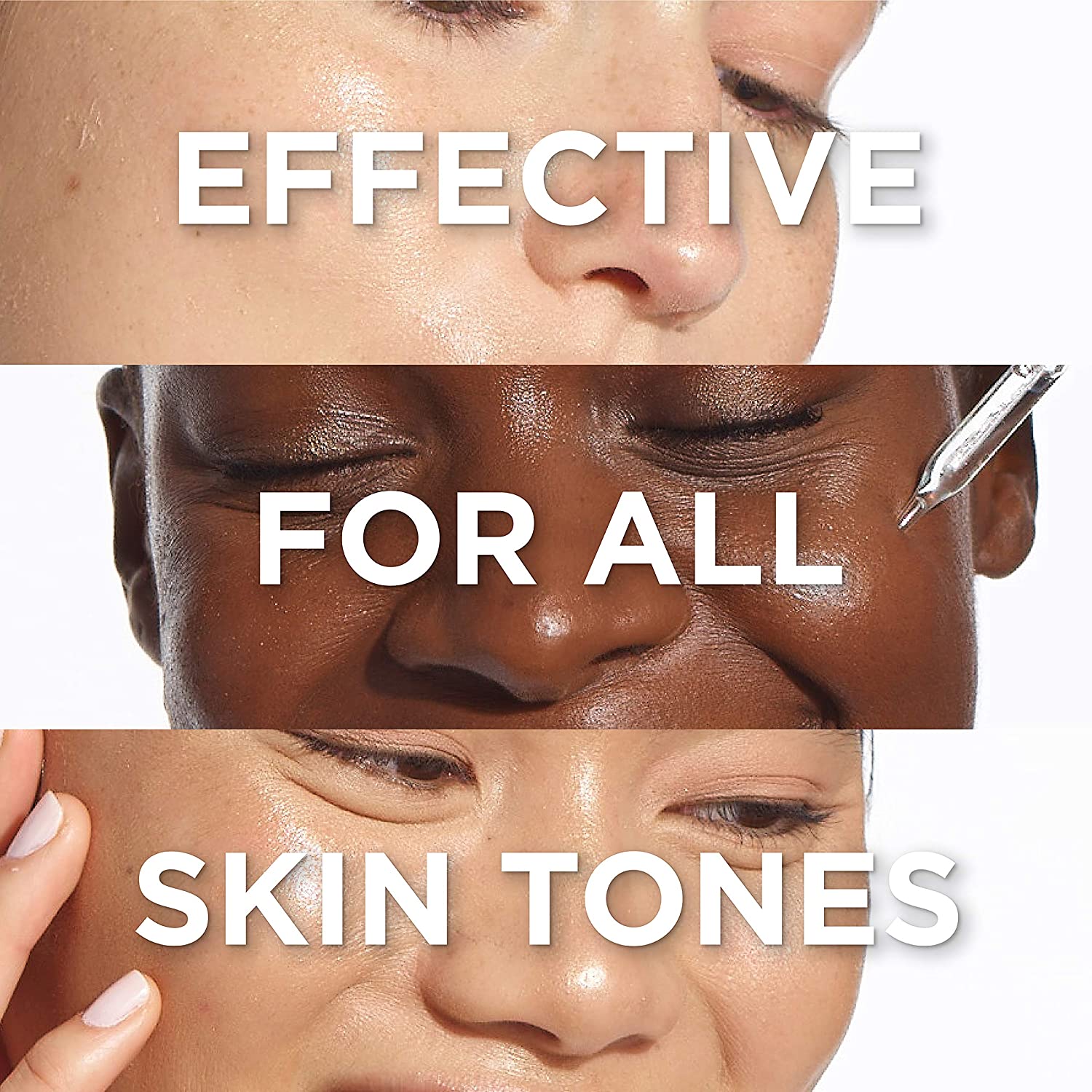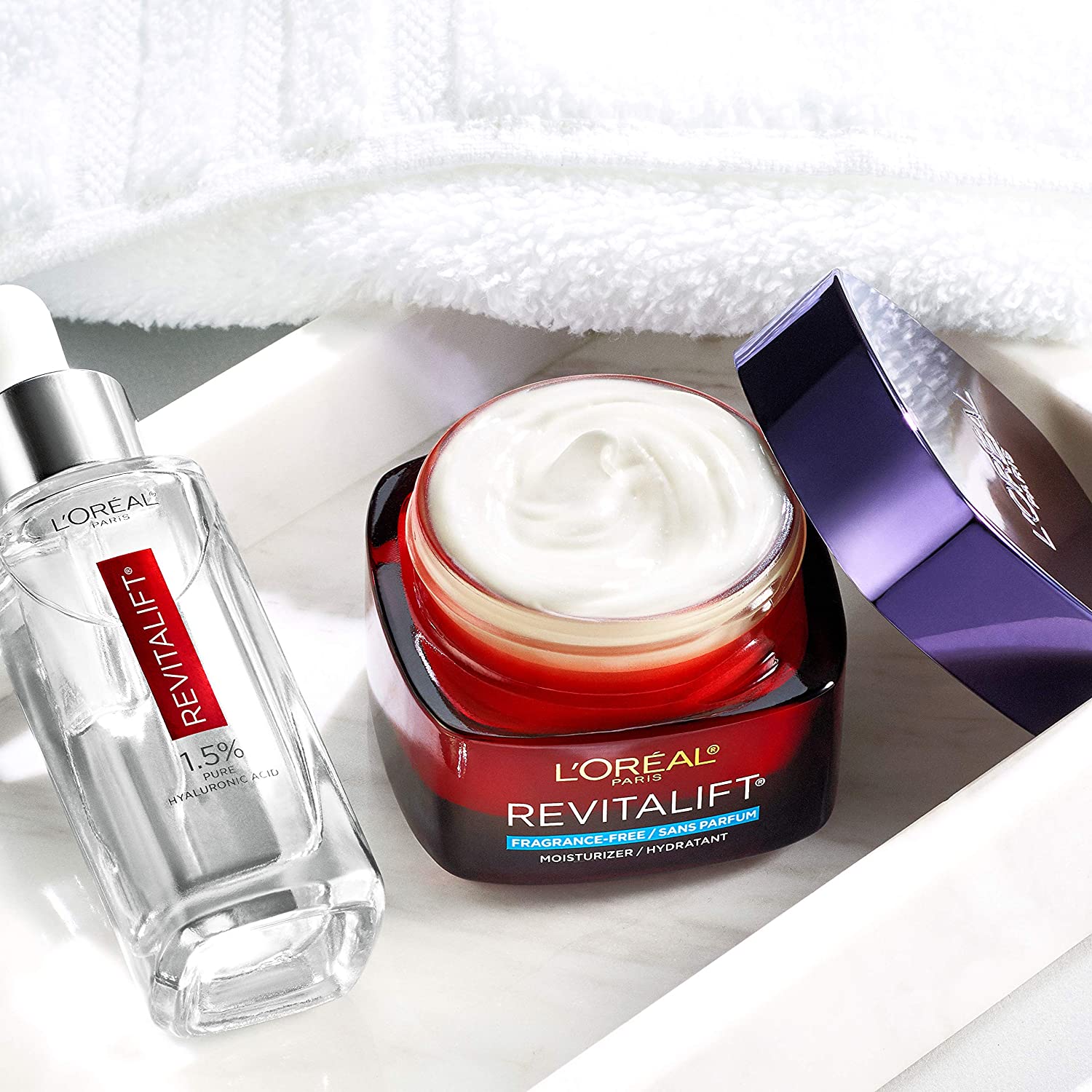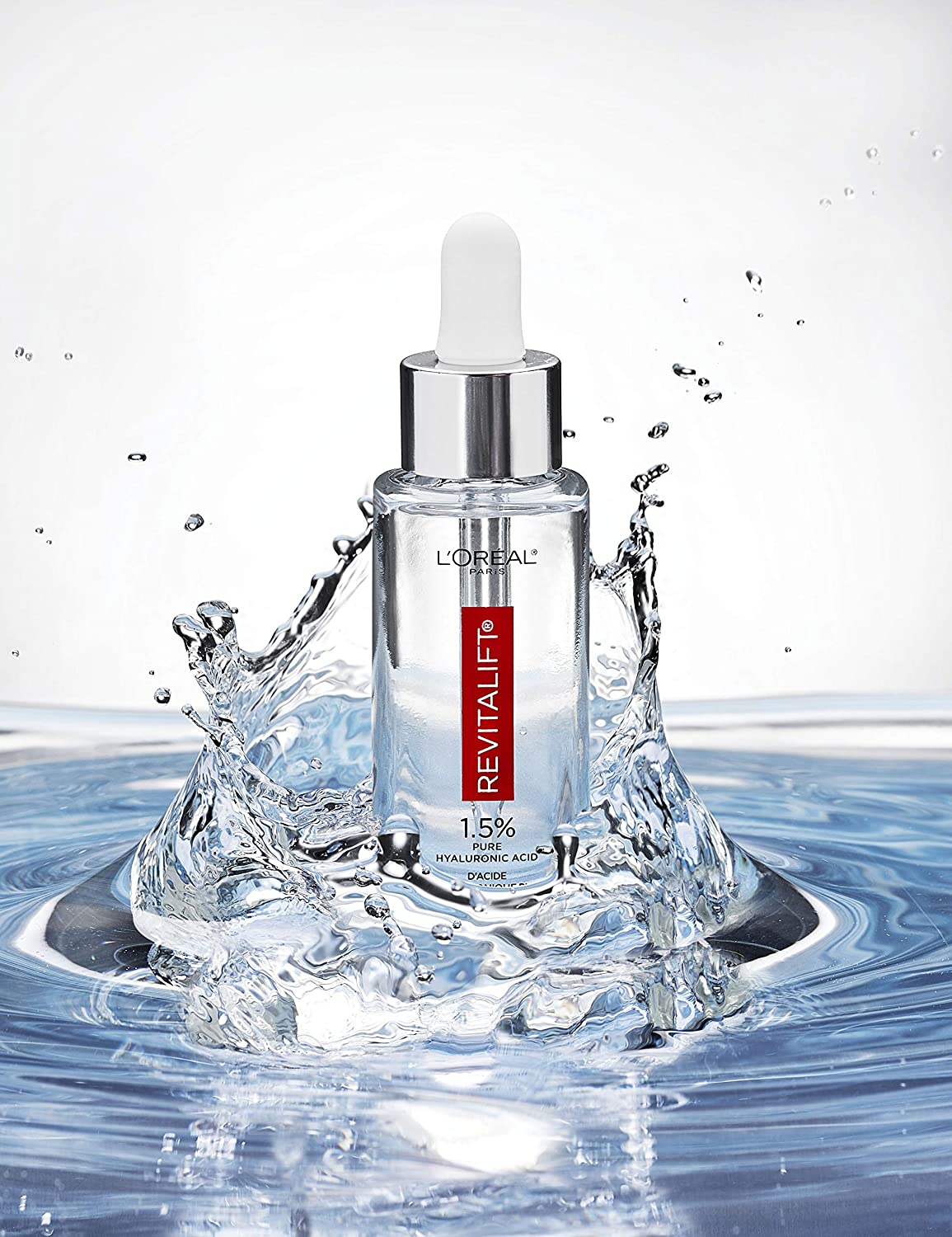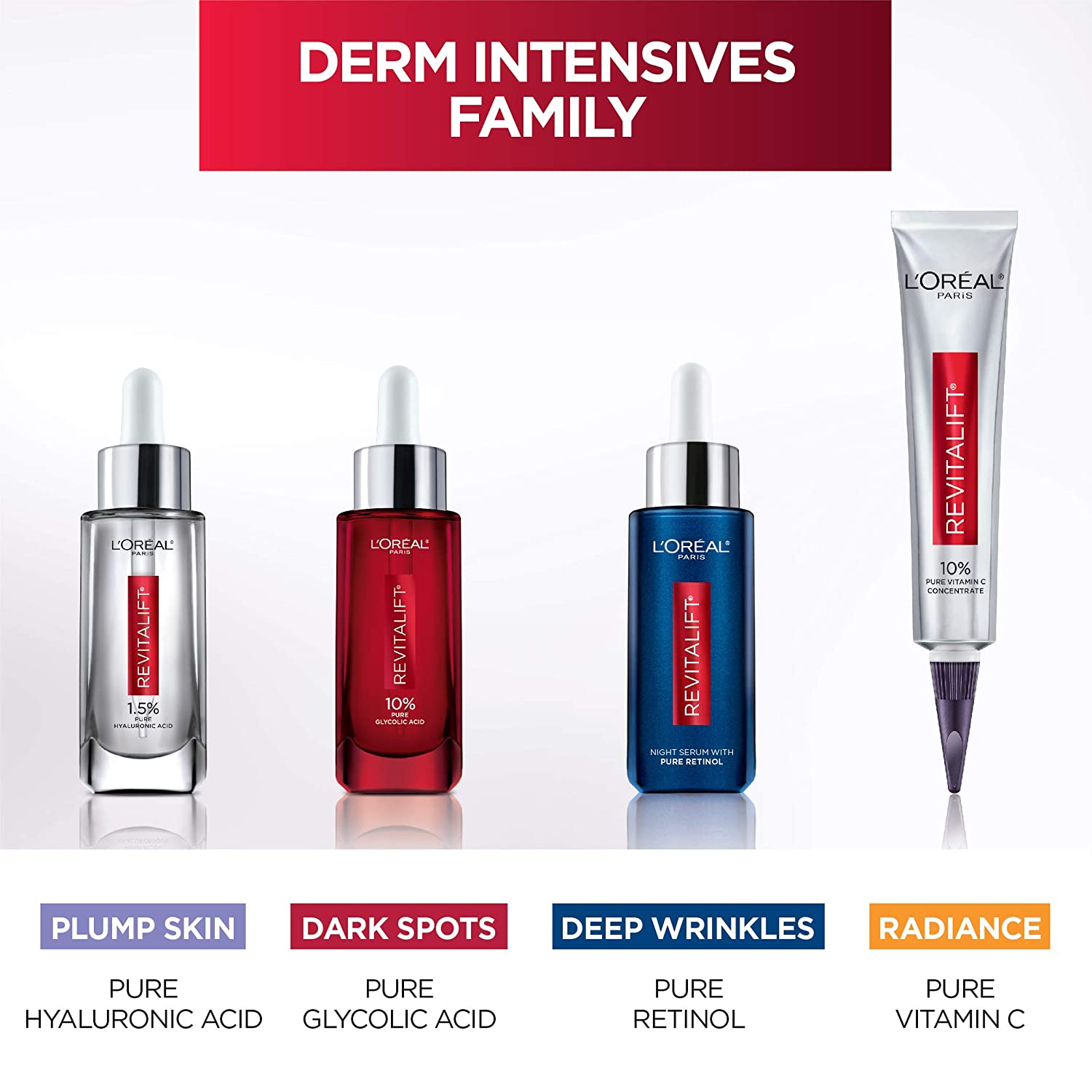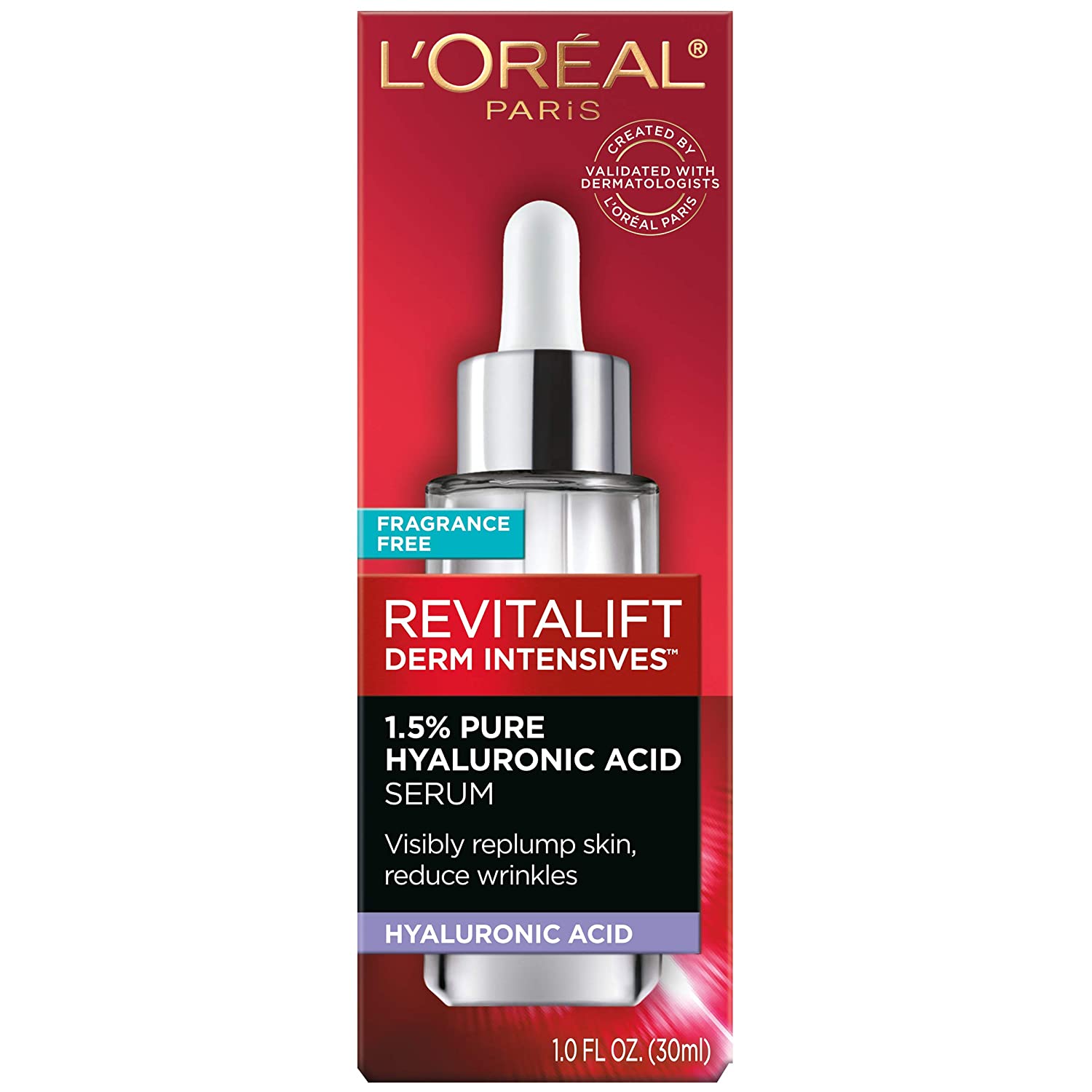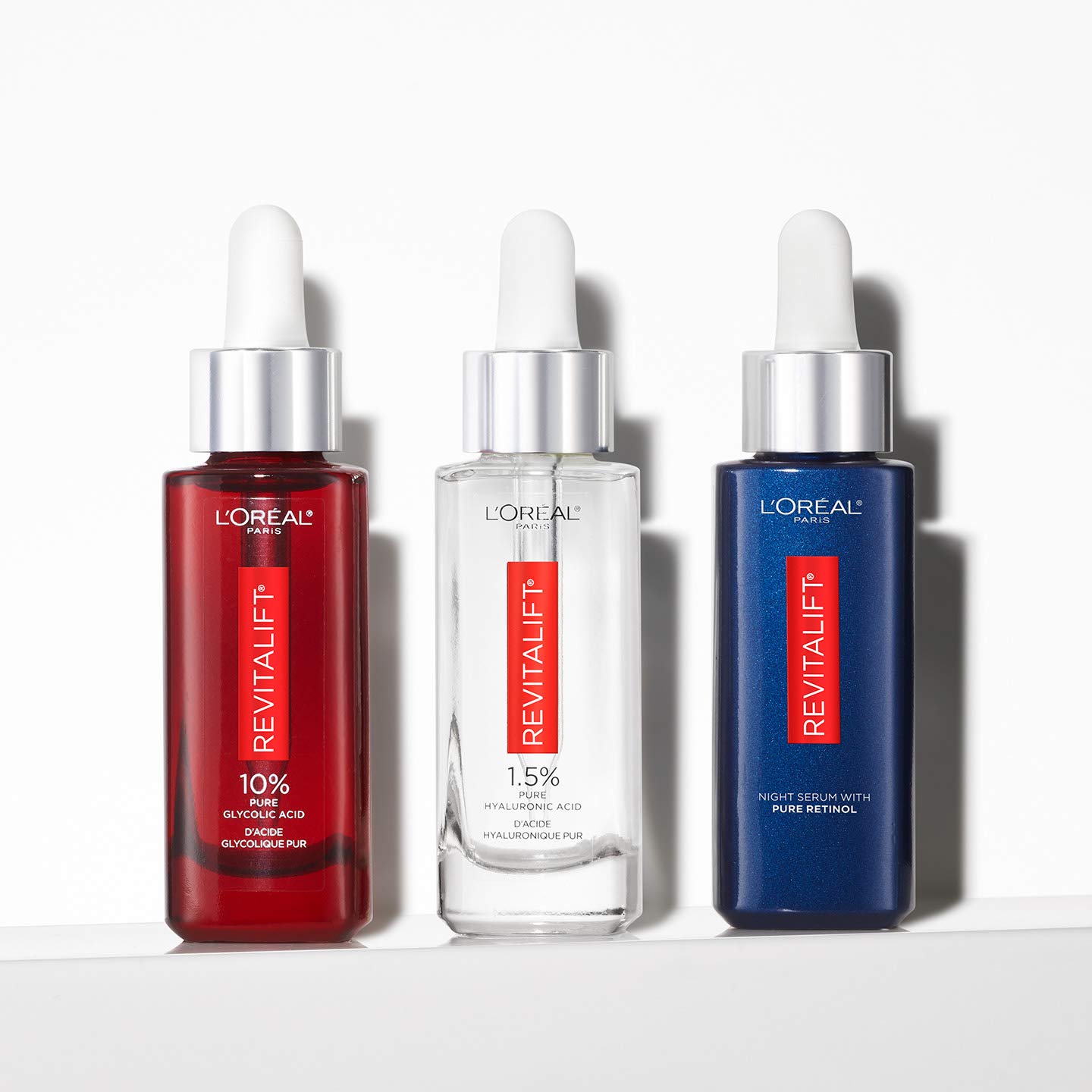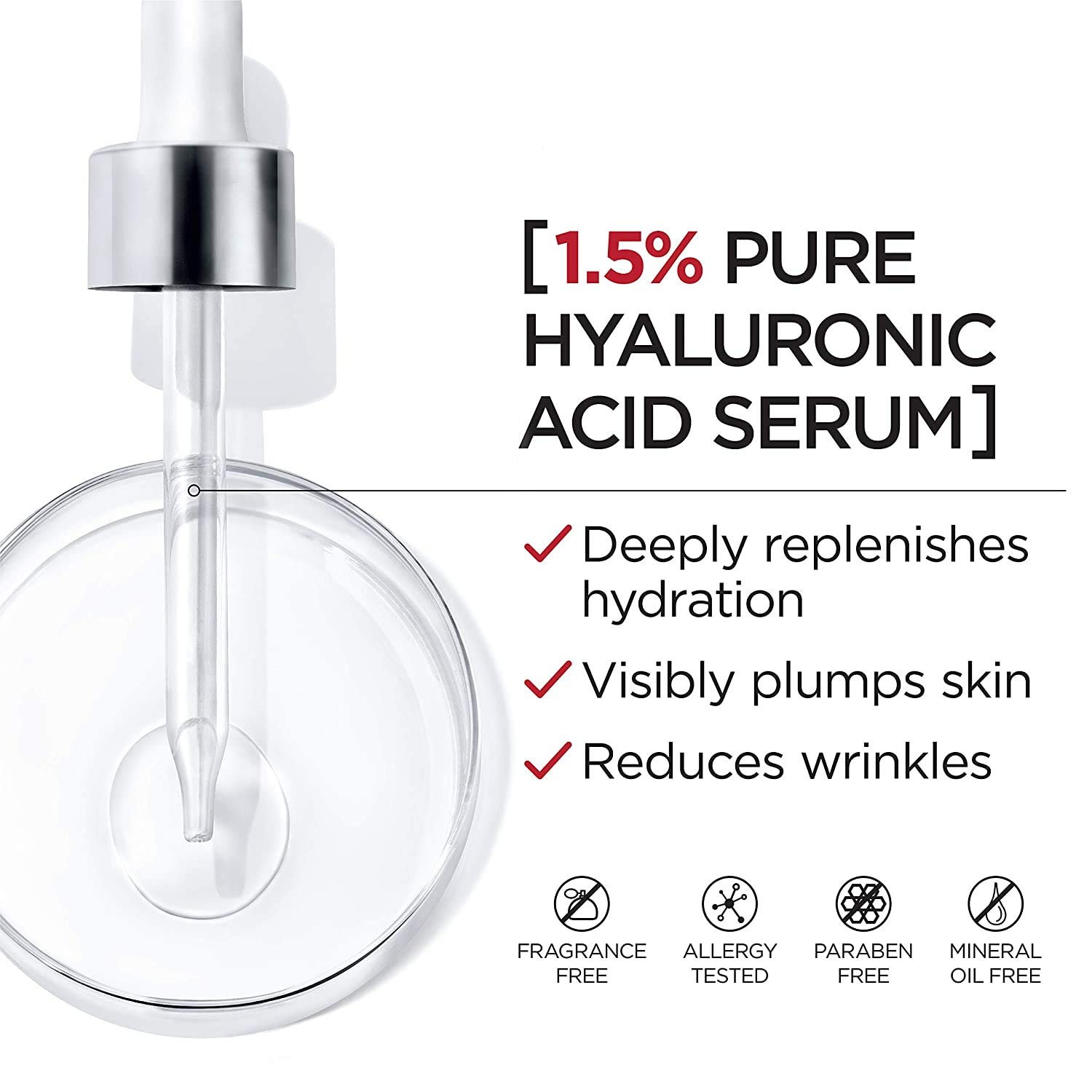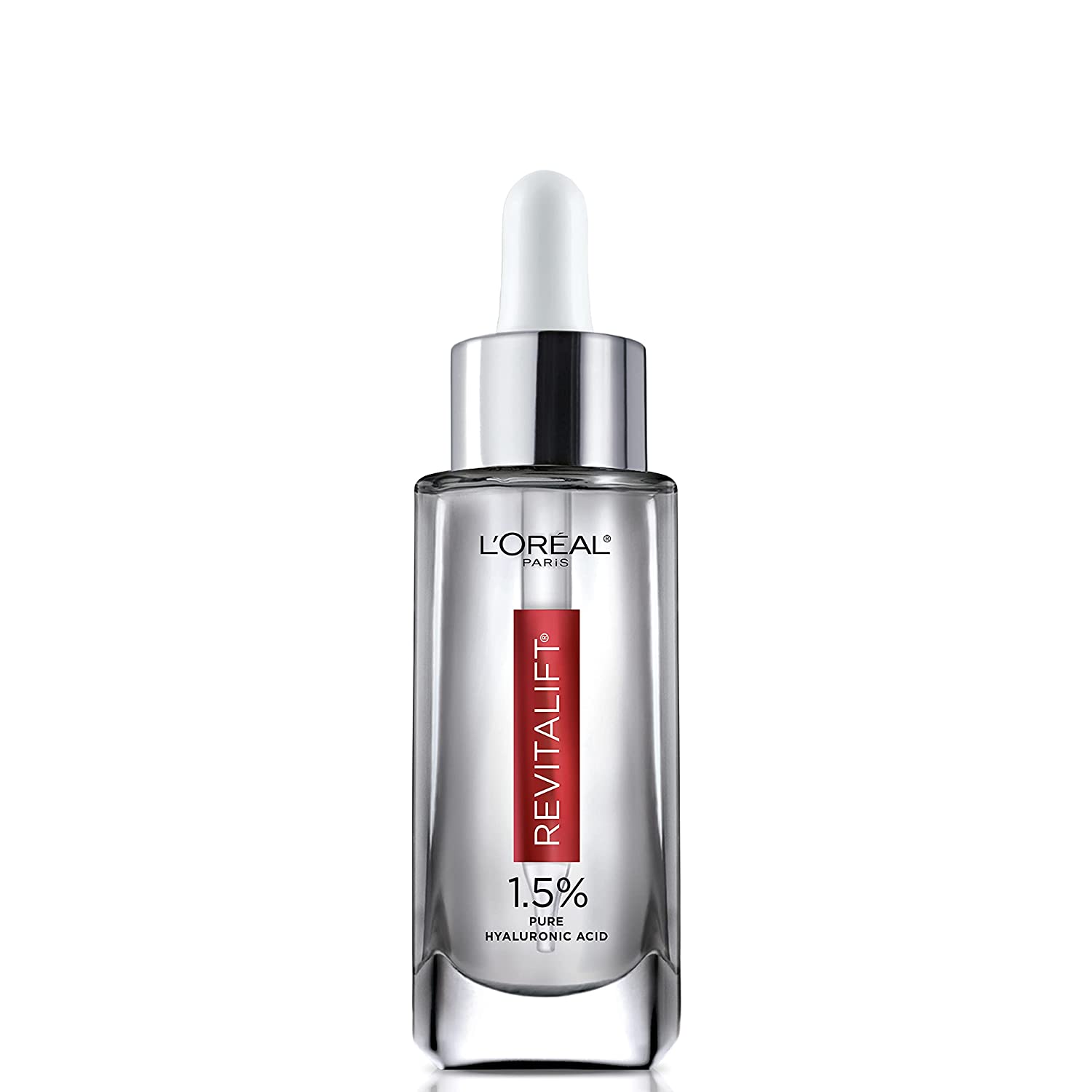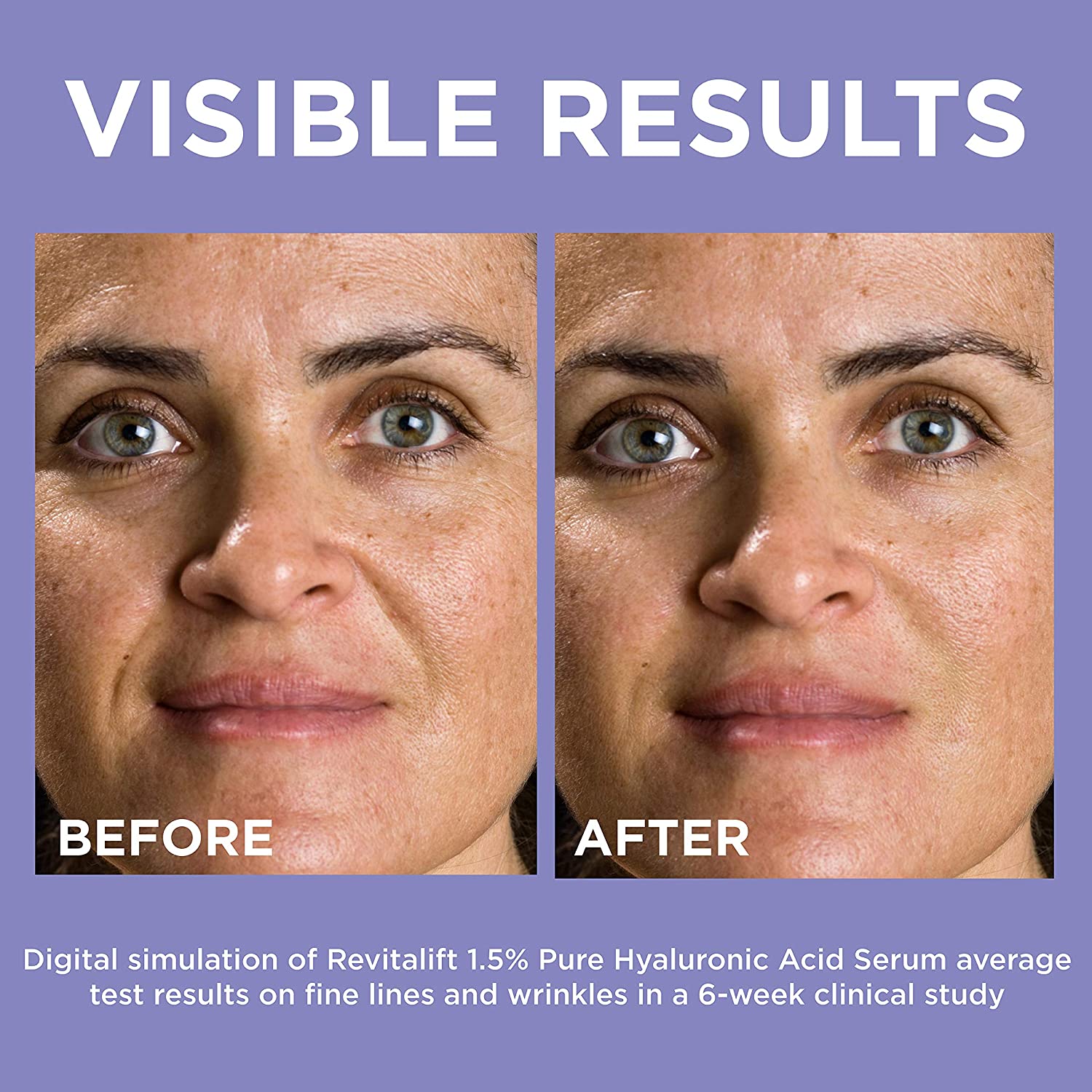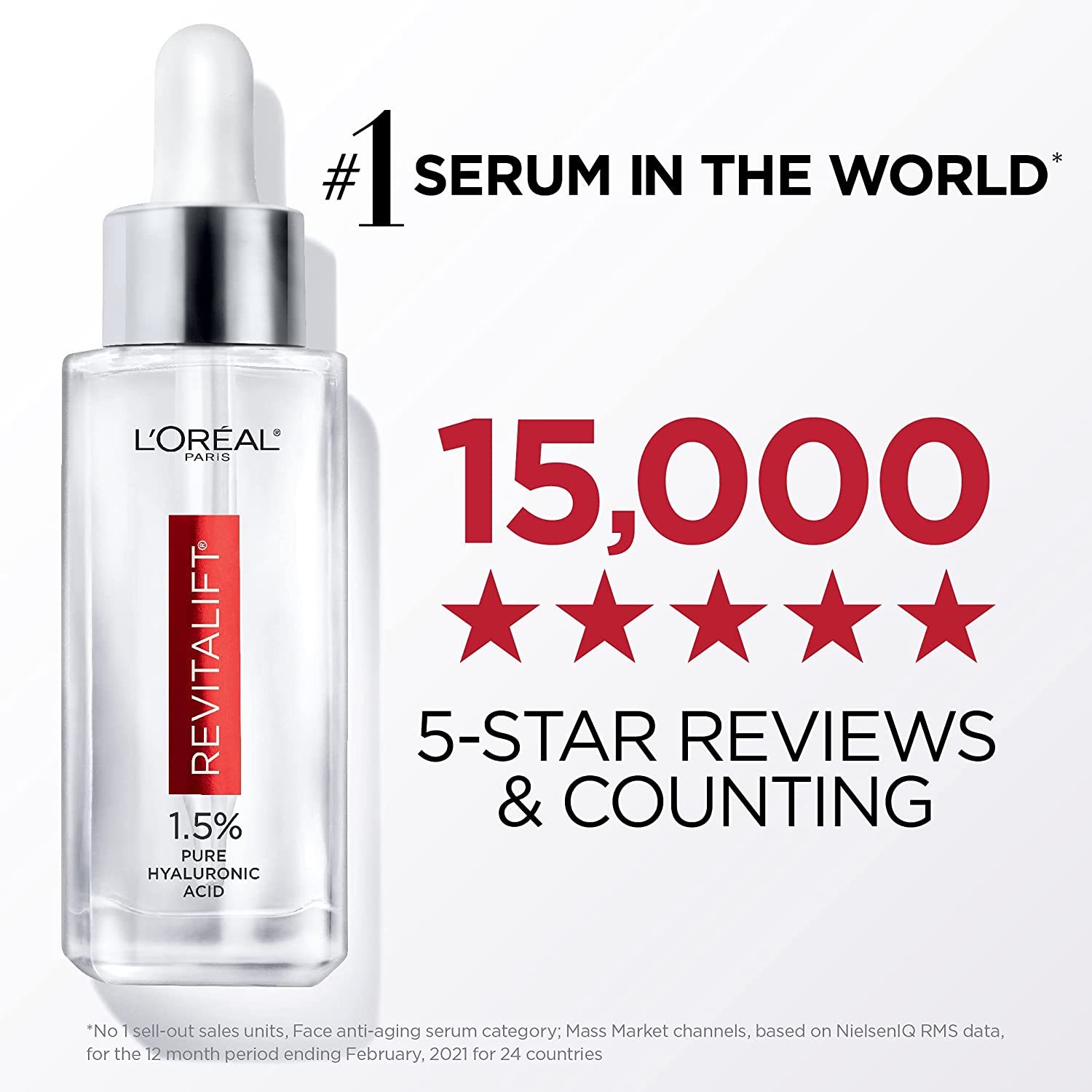 L'Oreal Paris 1.5% Pure Hyaluronic Acid Serum for Face with Vitamin C from Revitalift Derm Intensives for Dewy Looking Skin, Hydrate, Moisturize, Plump Skin, Reduce Wrinkles, Anti Aging Serum, 1 Oz
Description
Brand
Reviews (0)
Description
Active Ingredients Hyaluronic_acid
Product Benefits Intensive hydrating 1.5% pure Hyaluronic Acid serum plumps skin and reduces wrinkles.
Brand L'Oreal Paris
Scent Unscented
Skin Type Dry
About this item
Intensive hydrating 1.5 percent Pure Hyaluronic Acid Serum for face with Vitamin C moisturizes skin instantly for dewy glow and visibly plumped skin; Reduces wrinkles and boosts skin's radiance; Effective for all skin tones
Instant relief for dry skin; This hyaluronic acid moisturizer for face deeply hydrates skin immediately; In 1 week, visibly plumps for younger looking skin that feels firmer, more elastic and radiant; Skin looks and feels dewy instantly and overtime
Hyaluronic Acid (HA) is a potent hydration-attracting molecule naturally found in the skin; This formulation combines low-molecular and high-molecular weight for multi-depth hydration; Vitamin C is a vital antioxidant known to boost skin's radiance
Lightweight gel serum absorbs fast with no tacky feel or leftover residue; Sheer finish on skin and wears well under makeup as a primer; Use before makeup for a dewy boost of hydration; The perfect base for your dewy makeup look
Hyaluronic Acid Serum with Vitamin C for face and neck; Fragrance free, paraben free, mineral oil free, no synthetic dyes; Dermatologist tested; Suitable for every skin type: dry skin, oily skin, combination skin, sensitive skin and mature skin
From the manufacturer
What is hyaluronic acid serum
1.5% Pure Hyaluronic Acid Serum
benefits of hyaluronic acid serum, how to use hyaluronic acid serum
Skincare Ingredient Recommended by Dermatologists
Hyaluronic acid, a moisture attracting ingredient, plumps up skin from the inside out to create bounce and smooth skin. As we age, our skin's hyaluronic acid production decreases, causing dehydration and signs of aging such as wrinkles.
benefits of hyaluronic acid serum, how to use hyaluronic acid serum
Pure Hyaluronic Acid – For Intense Hydration
The formula combine 2 types of hyaluronic acid: 0.5% High Molecular Weight Hyaluronic Acid will remain on top of the skin, without a tacky feeling, to help lock-in moisture for dewy skin. 1% Low Molecular Weight Hyaluronic Acid absorbs more easily to help instantly replump, smooth skin texture
Previous page
hyaluronic acid serum for the face, hyaluronic acid serum for the skin
Derm Intensives Advantage
Ingredient Purity
Immediate results that will leave skin intensely hydrated and soft to the touch.
Next page
1.5% Pure Hyaluronic Acid Immediate Visible Results Lightweight Texture Dermatologist Validated
hyaluronic acid eye serum
Related Products