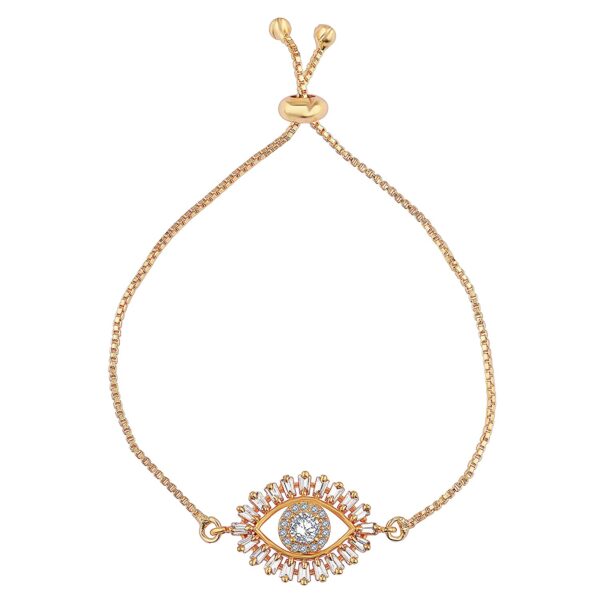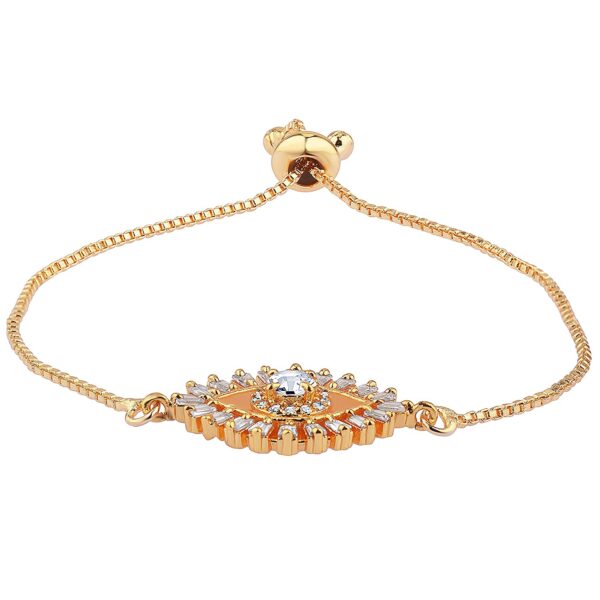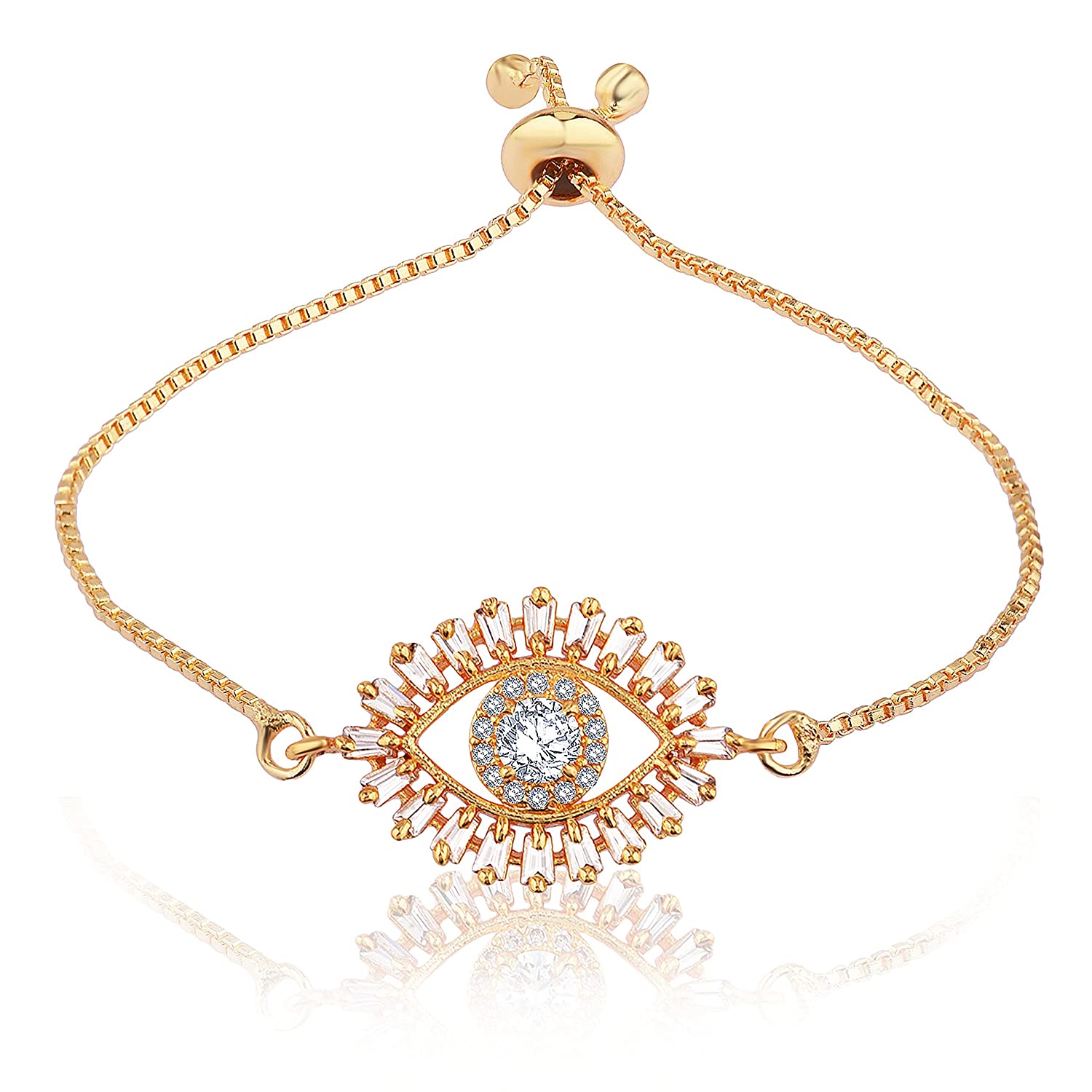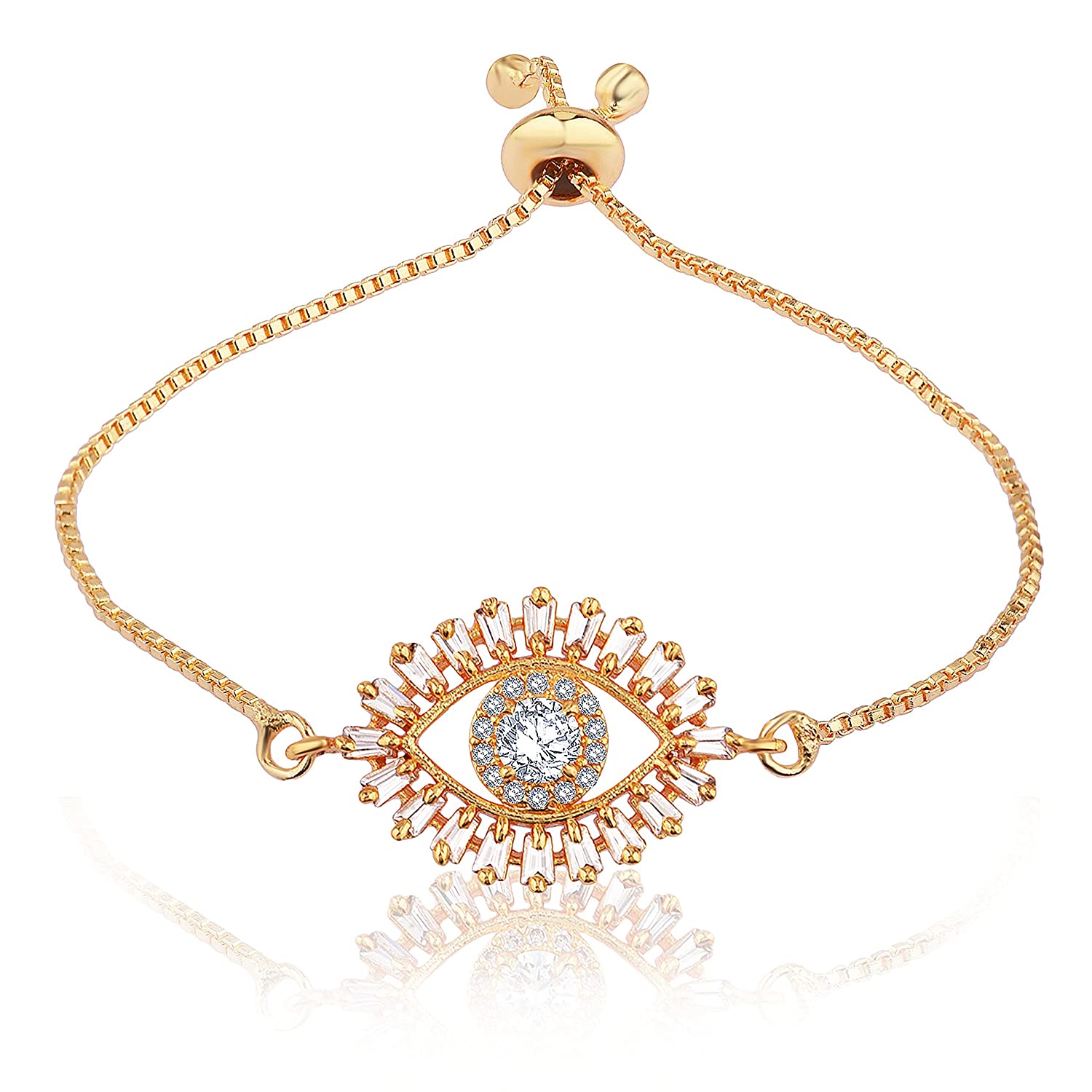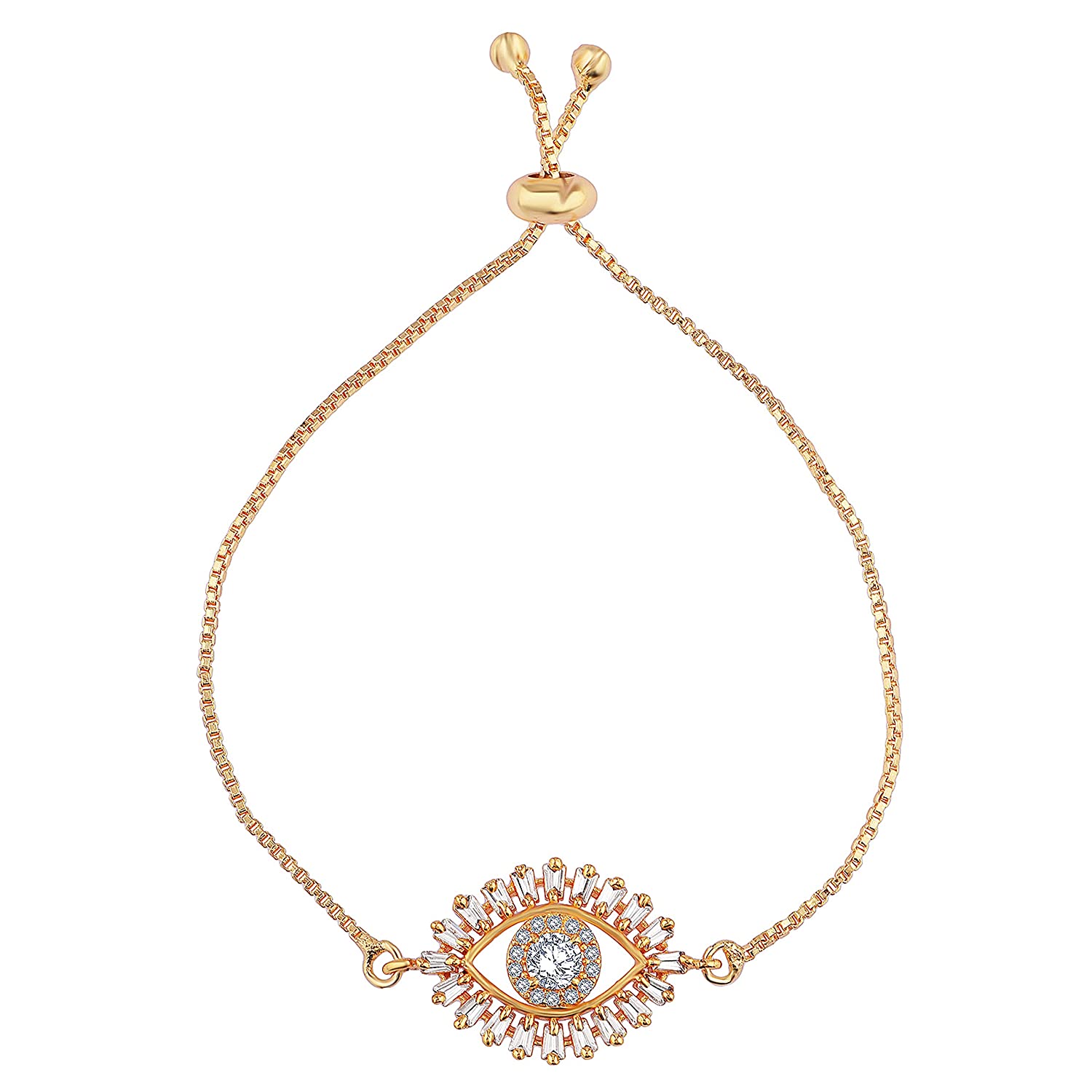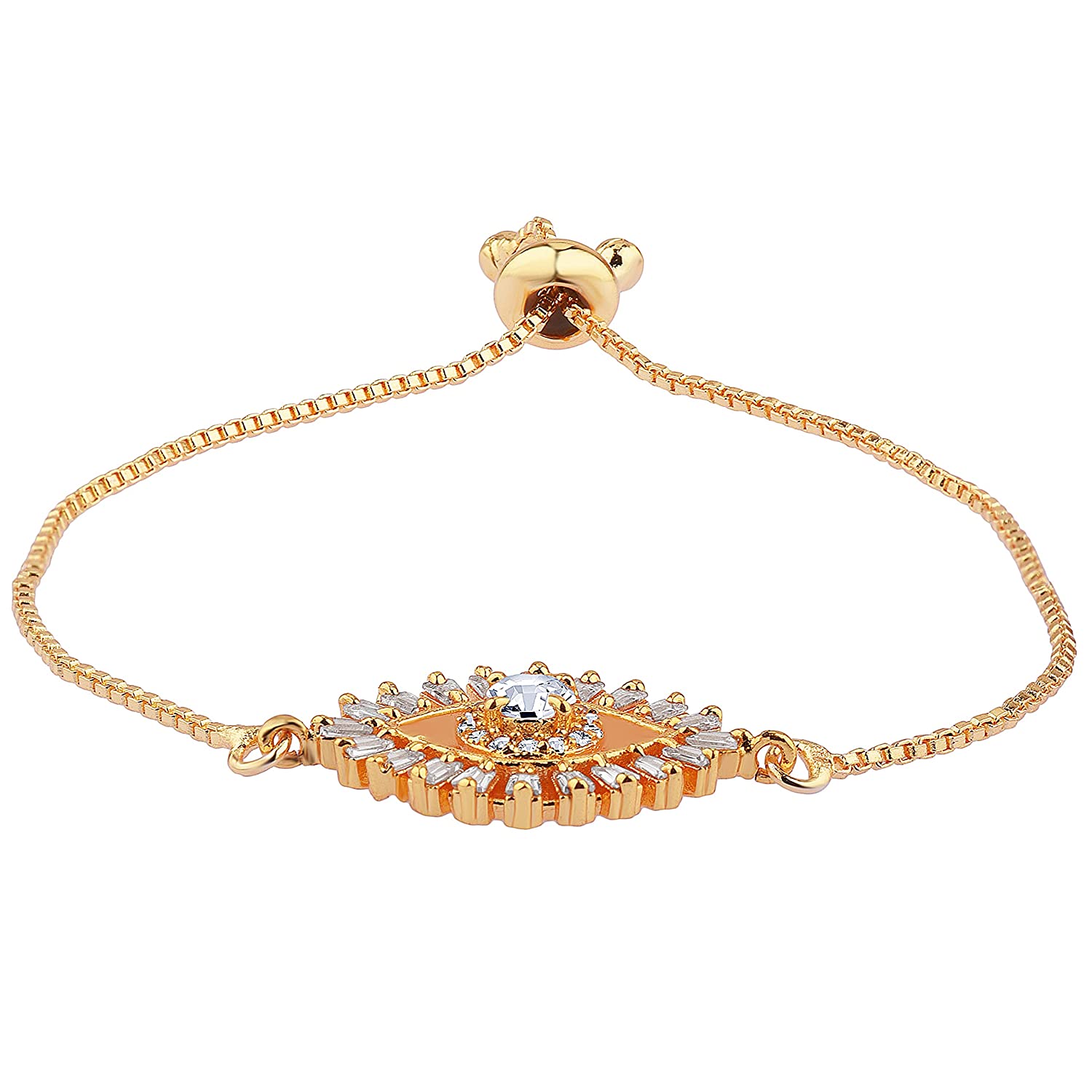 BBRATS Evil Eye/Nazariya Swarovski Zircon Crystal Charm Accessories Hand Bracelets for Women & Girls.
The evil eye, often known as a 'Nazar' is an amulet believed to protect humans against the 'evil eye.' History has it that if someone is given an 'evil eye' glance by an enemy or foe, it could be enough to be deadly or bring them great harm and unhappiness.
In Ancient Greece, the Philosopher Plutarch stated that the 'human eye has the power to release invisible rays of energy that can be potent enough to harm humans or animals.' Outside of Greece, the evil eye has a rich history as a talisman of protection not only spanning across Asian, Mediterranean, African and Arabic countries but also all main religions from Jewish, Islamic, Buddhism and Hinduism. In Turkey, it's considered an appropriate gift to bring to a newborn baby (the ones considered the most susceptible to the curse) and in most Muslim traditions, if someone wishes you well, it's a given to say a blessing back in order to keep the evil eye at bay.
The reason it's most commonly created with blue is that according to Greece and Aegean countries, 'blue-eyed' people are meant to bestow the curse (intentionally or unintentionally), so the amulets are ironically painted or created using blue to reflect the eye colour it's warding off.
bracelet bracelets bracelets for women bracelets for women stylish bracelets women braclet braclets braslet breslet women bracelet women bracelets bracelet bracelet man men bracelet bracelet bracelets bracelet for women bracelet for women latest design bracelet men stylish bracelet for women stylish latest bracelets women braclet braclets braslet hand bracelet for women hand bracelet ladies bracelet hand jewellery for women bracelet for men bracelet for women bracelet for women stylish bracelet women bracelets for women stylish bracelets for women bracelets for women stylish braslet men bracelet women bracelet women bracelet stylish latest women bracelets braclets bracelets for girls stylish latest fancy braslet for hand women styles hand accessories for women mens bracelets bracelets brecltele for women bracelet men bracelet women latest design hot bold bracelet bracelet girl bracelet girls stylish breslet men bracelet men stylish latest stylish bracelets boys latest stylish bracelets boys latest breslet boys stylish design men hand bracelet wrist bracelet men men breslet men braslet boy hand bracelet men braslet stylish hand band men stylish bracelate man bracelet boys stylish latest braslate men hand bracelet men stylish hand breslet men semi precious stone bracelets bracelets latest fashion men beads bracelet jewellery women beads braclet hand breslate men stylish beaded bracelets men beads men wrist band men hand band men bracelet men stylish religious bracelet men evil eye bracelet women evil eye bracelet men nazar bracelet eye bracelet cat eye bracelet nazar bracelet women evil bracelet devil eye bracelet eye combo couple evil eye bracelet evil eye bead bracelet bad eye protection bracelet evil eye combo evil eye rudraksh bracelet triple protection bracelet vastu bracelet men good luck bracelet lucky bracelet
Description
Brand
Additional information
Reviews (0)
Description
| | |
| --- | --- |
| Material | Crystal |
| Colour | Gold Diamond Zircon Evil Eye |
| Brand | Hot And Bold |
| Style | Minimal |
| Age Range (Description) | Adult |
EVIL EYE BRACELET: Evil eye is believed to be a curse, it will causes bad things to the person who has received the curse. It is said that wearing this special evil eye charm bracelet could as protection amulet to ward off misfortune.

LUCKY KABBALAH BRACELET: Wish Protection bracelet is a beautiful way to give someone you care for a wish, wear the bracelet on your wrist and make a wish, when the bracelet starts to fray it means your wish is on it's way!

Make: Built With Skin-Friendly, Hypo-Allergenic High-Quality Copper ( Not Any Ordinary Metal Or Alloy), Plated With 10 Micron Gold. American Diamonds / Cubic Zirconia/Crystals Are Carefully Handpicked For Uniformity Of Color, Cut, Clarity & Lustre, Prong Setting By Skilled Artisans That Work With Diamond Jewelry.

Wearability: Comfort Fit- Classical Tennis Bracelet Design Makes It Attractive. Easy To Match And Suitable For Young And Elderly. Suitable For Office, Formal, Casual & Party Wear And Festive Occasions. Team Up With Gowns, Sarees, Indian Outfit Or Cocktail Evening Wear And Add Class To Your Overall Look.Ideal Friendship Day, Valentine'S Day Or Birthday Gift To Friend, Girlfriend, Daughter, Wife, Sister, Boss Or Someone Special.

GREAT CUSTOMER SUPPORT – We want to delight you in every purchase made. Please feel free to contact us if you have any concern about the item. We will try our best to give you an enjoyable shopping experience.
Additional information
| | |
| --- | --- |
| Weight | 30 kg |
| Dimensions | 5 × 5 × 5 cm |